So, you are already over our New Zealand winter and planning for the summer ahead which includes refreshing your outdoor living space with new outdoor furniture.  Instagram and Pinterest are great sources of inspiration, but they can lead the uninitiated down a dark path of regret if you buy into the fantasy without really thinking it through.  Avoid heartache, follow these five practical tips to help you make well-informed buying decisions.
1) Ask yourself, is it really outdoor furniture?
Have a good look. An outdoor setting doesn't mean the furniture is built for outdoor use. This is relevant right now with the current trend in natural bamboo furniture. If this is a look you aspire to, ensure that the product is truly moisture resistant, as NZ's damp climate is the number one enemy of bamboo. I love the look, and it works in some climates,  but I choose not to sell this material as I don't want to disappoint my customers when it fails to live up to their expectations.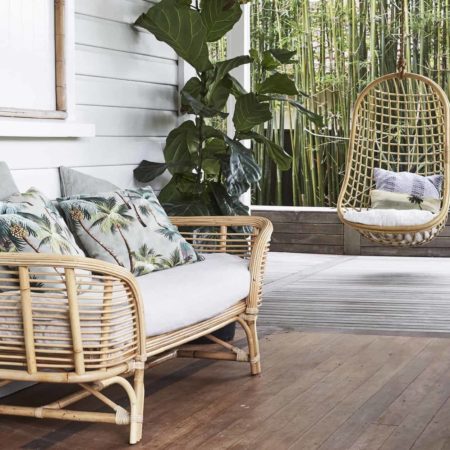 The product description on the website for the hanging chair above  says "Made from natural rattan so best kept undercover away from rain or indoors." source
2) Black is the new challenge
I love Pinterest images of stylish black aluminium outdoor furniture that oozes uber cool- urban -minimalist. It also fits in beautifully with the natural earthy timber outdoor architecture or Byron Bay-inspired white and black monochromatic exteriors that are so on trend at the mo'. My modern black aluminium framed ranges have been top sellers, but if my customers' outdoor area is uncovered and south facing, black aluminium will be uncomfortable to touch in summer and I suggest they steer away from this option.
In short, avoid disappointment and make sure your outdoor living space is the right environment for the style of outdoor furniture you like.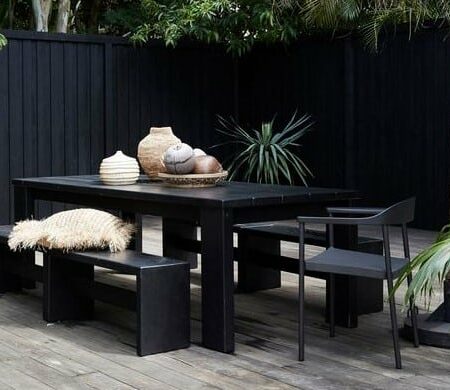 Black aluminium framed furniture may not suit  uncovered sun-intensive areas source
3) Accent fabrics: Know the tradeoff of textiles
Those incredible textured accent cushions and interesting fabric throws look amazing on Insta. Sadly they are far from outdoor proof. By contrast, polyester outdoor fabric print cushions which are designed to dry quickly, and provide up to 500 hours of fade resistance generally aren't great Instagram fodder as they don't knock it out of the park in terms of style.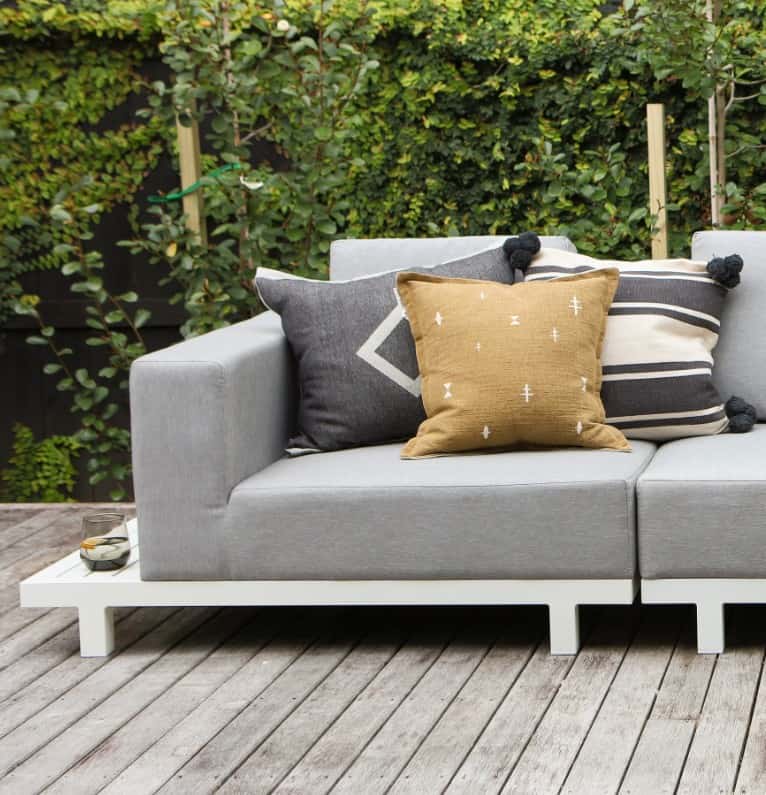 The accent cushions we used in this image, posted on Instagram, above are not outdoor-proof. source
By virtue of their engineering, truly sun and fade-resistant fabrics like Sunbrella®, are limited to basic colours and patterns, and are best suited as an upholstery fabric. I feature Sunbrella® as my upholstery fabric of choice for most of my furniture outdoor ranges but it's not a very interesting fabric to use for accent cushions. For my throw cushions, I simply cheat and use indoor ones in my photo shoots ( like the image above) and in my real life as they are more inspiring. However,  I don't keep them outside for long.
4) Be discerning about outdoor accessories
Indoor plants, metallic-look vases, paper lanterns and electric strings of uncovered bare bulbs lights strung between poles look great on Pinterest but are examples of accessories that may not actually be robust enough for 24/7 outdoor use.
If you want to replicate a highly accessorised look you've seen, ask yourself if you are prepared to schlep most of it in and out each day.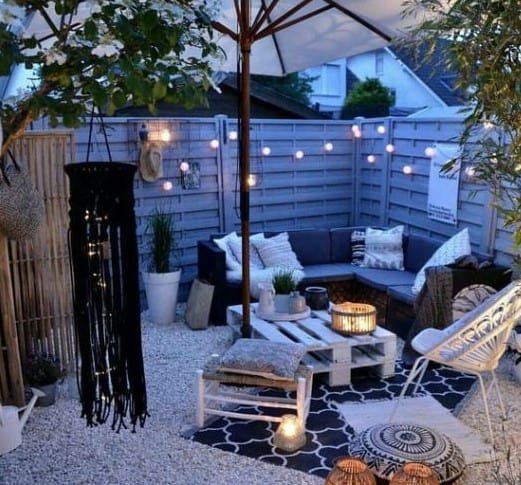 Example of boho-verkill that's also not very outdoor-proof source 
5) Be prepared to substitute:
Don't despair! You don't need to give up completely on achieving a particular look you've seen, just be honest about what you're prepared to do to get it. I'm into low maintenance living and have recently purchased some artificial bird of paradise plants for the covered outdoor area of our beach place to give us that tropical beachy look without the hassle. They look great even after weeks of us being away. The real ones certainly didn't.
So browse away, and enjoy all those aspirational outdoor living images you pin and save as favourites. Just be discerning about what you see so you are not disappointed with the choices you make when it comes time to buy. After reading this, if you now peruse Instagram and ask yourself "Can I really live like that?", "Does that fit our lifestyle?" "What will that look like in a year?" then I've done my job.
Kerry is the owner of OutsideSpace NZ, selling contemporary outdoor furniture for coastal living kiwis seeking quality product and design, at an achievable price. She only buys ranges she loves yet also suit the NZ lifestyle.