Whether you want to zjoosh up your outdoor area with a few accessories or take the plunge and invest in new outdoor furniture, here's 10 things to know about what's trending this summer. 
1) Grey power
I love grey, and so does everyone else it seems. Grey upholstery and soft furnishings are everywhere for summer with tones ranging from Seafog to Charcoal and everything in between.  Anthracite is a new-ish frame colour popular in powder-coated aluminium furniture. It's like a 'gunmetal grey' colour and is more forgiving than black. It also pairs well with timber.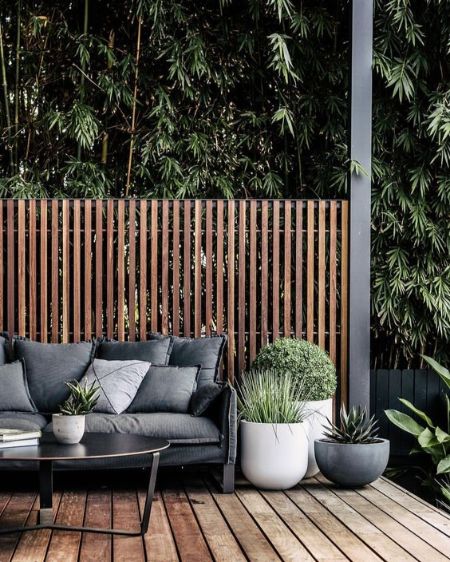 Grey…never boring. Source
2) Accent cushions and textiles 
This year, accent cushions are subtle, classic and neutral. Instead of bright patterns and bold colours, the interest comes from their textures, subtle details, or slight variations in tone between cushions. TBH I can't find any outdoor ones I like so I use indoor ones!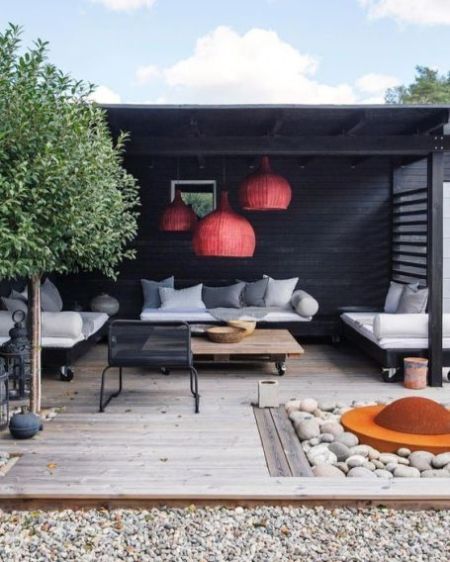 Accent cushions' interest comes from their textures and variations in tone between them. Source
3) Stylishly casual
Refreshed designs of old casual classics such as designer picnic tables are popular.  Keep it casual by pairing your dining table with bench seats rather than the requisite set of matching dining chairs (which is what our parents defer to). It looks more effortlessly stylish yet informal. 
bench seats with dining tables… casually cool.  Source
4) Greenery galore 
Large-leaf tropicals are an essential feature of outdoor settings. The Giant Bird of Paradise,(Strelitzia nicolai) is THE outdoor plant of the year. Install it with a beautiful conical pot and bang, you've updated your look for summer.  Get in touch with Danny's Palms for your palms or Black House Creative who have the most perfect pots on offer.  Plus they offer botanic styling as well (meaning, they will match the perfect plant and pot for you).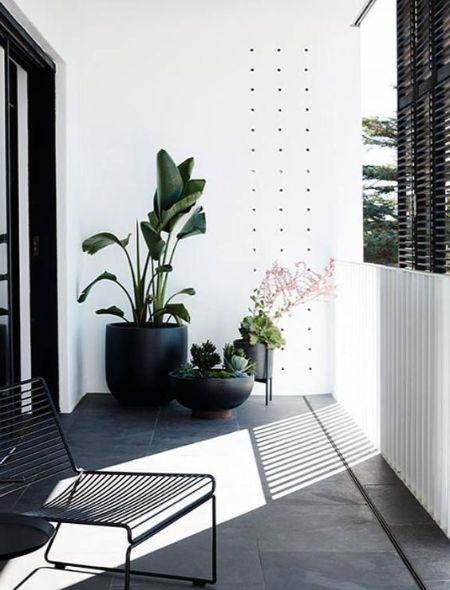 A dynamic duo- Giant Bird of Paradise in a conical pot.  Source
 5) Rattan, really?
Many of us haven't recovered from the era of the Mitre 10 requisite brown square modular rattan sofa sets. However, rattan, in particular, PE rattan,  is making a comeback as a feature material for smaller pieces like occasional chairs and dining chairs. Think 'hand-woven basketry' rather than 'nasty hardware store boxy'.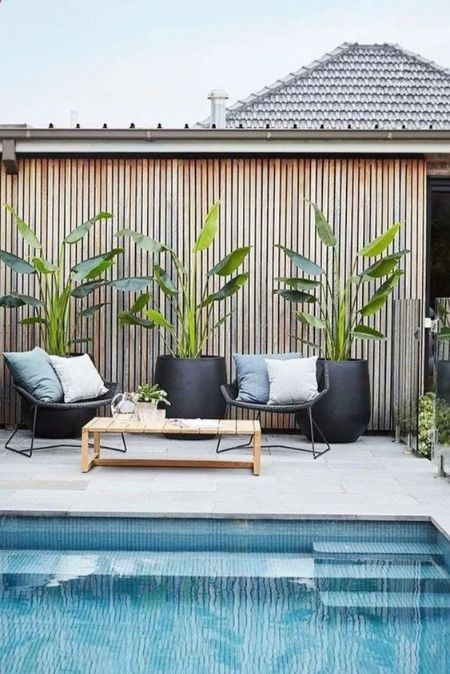 The return of rattan, to a point. Source
6) Well-rounded
Curves are everywhere …  round pouffes, round outdoor rugs, round side tables and coffee tables. Adding a round side table or a round rug is an easy way to update your outdoor space. Tip: best not to go overboard with round accents, it can look a little forced.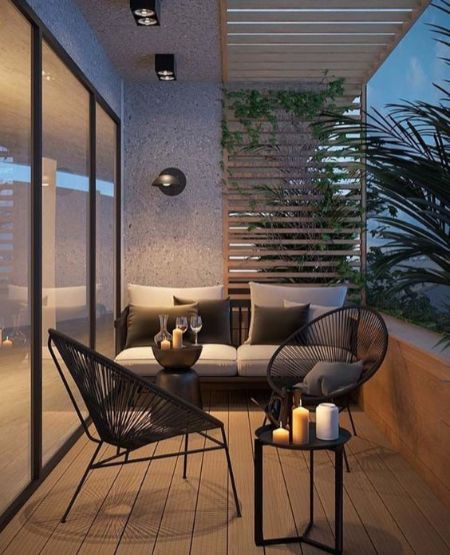 Round is abound. Source
7) Where's wood?
Teak and other types of wood are still popular but it tends to be mixed with other materials rather than being the sole material of outdoor furniture.  The look is less chunky and more 'designer'.You'll see it on more on walls, flooring and ceilings and less on outdoor furniture itself.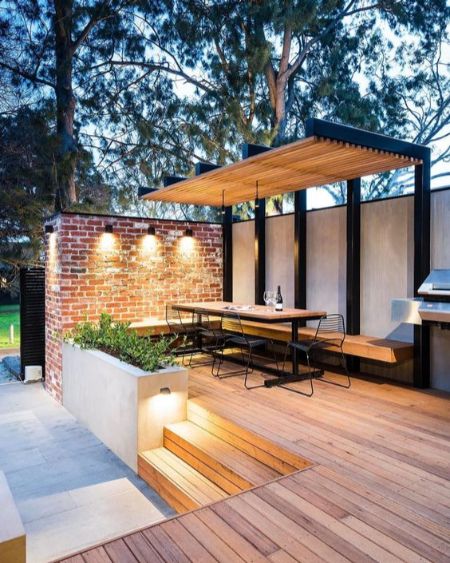 Wood tends to be mixed with other materials for outdoor furniture. Source
8) Matching sets remains a no-no
You haven't matched your handbag and shoes since the nineties. The same rule applies to your outdoor dining and lounge suites.
9) Materials: keep mixing it up  
As seen from every image in this blog, mixing and matching materials is still the rage.  Kiwis are pairing concrete tables with resin chairs, wood tables with steel frame chairs. Almost anything goes and it's a great way of making your outdoor area uniquely yours. 
10) In the "where are they now" file
RIP….. the sun lounger. This item used to be a requisite in every outdoor space, back when the solo pastime of sunbathing was a thing. Now lounging around outside is widely recognised as a group sport and outdoor sofas and corner suites provide us with the opportunity to put our feet up and enjoy the outdoors… together. 
RIP… stainless steel outdoor furniture. This look has mostly been superseded by powder-coated aluminium/ and powder-coated steel furniture.  I am sure it will be fierce again one day, but just not this season.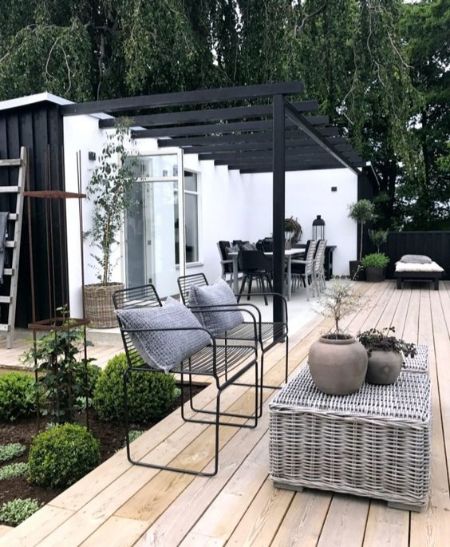 Stainless steel frames have given way to powder-coated steel frames. Source
For me, my happy place is spending time outdoors, particularly in summer. If this blog gets you excited about summer and thinking about creating a comfortable outdoor space for you and your loved ones, then I've succeeded. 
Happy summer planning!
Kerry is the owner of OutsideSpace NZ, offering a range of contemporary outdoor furniture for coastal living kiwis seeking quality product and design, at an achievable price.  She believes New Zealanders can do better than buying their outdoor furniture from stores that sell lumber and paint.
She's hoping this blog has credibility, given that she sells outdoor furniture and has an inherent bias.  Hopefully what redeems her is that she refers to trends in general and only reference products other than her own.