For many of us in NZ, seven intense weeks at home has instilled a newfound appreciation of how much our outdoor living contributes to our overall enjoyment of home life.
Based on the wave of post-lockdown enquiries I've received, it seems that many of you have found your outside living space underwhelming and are now motivated to begin its transformation.
If this sounds like you, here are 6 'Get and Forgets' to bring you up to speed in the world of outdoor styling for 2020/21.
1. Get: Warm. Forget: Cool
This season, you'll see the resurgence of warmer tones like taupe, terracotta, and cream. Grey doesn't disappear but it will share the spotlight. The industrial look of stone and granite remains highly relevant but the look has evolved from being steely cool to a kinder, warmer, earthier vibe. Less cold concrete and more warm-toned timbers and tiling.

Warm replaces cool Source
The warm tones of corten steel Source
2. Get: Toned and Textured. Forget: Loud and Floral
There is a heavy focus on textures this season. Cushions are textured and tonal, and outdoor rugs are chunky. Throw rugs are substantial. The better outdoor textiles are engineered for outdoor use, so you can achieve the look.
Textures galore in 2020/21 Source
3. Get: Natural. Forget: Plastic
White resin moulded chairs ruled for many years in outdoor living, as they were both stylish and hardwearing. However, the movement to more a natural aesthetic has meant marine-grade steel, aluminium, and wood are re-emerging as the outdoor materials of choice in outdoor furniture.
Even the treatment of timber decking has evolved. Timber is now more likely to be left to age or silver off naturally rather than be stained a less-than-natural looking colour.
Note: please do your homework when choosing natural wood and other natural materials for outdoor use, or read my blog about this subject
Natural timber deck, corten steel fire pit, aluminium/steel/timber furniture Source

4. Get: Relaxed. Forget: Formal
Forget buying eight matching dining chairs with your outdoor dining table. It simply looks too formal for today's relaxed style. Keep it casual by incorporating bench seats instead. A good multi-generational solution for older guests that enjoy the back support of a chair is to introduce outdoor dining chairs on one side of the table, with benches on the other.

Effortlessly stylish casual outdoor dining in 2020/2021 Source
If you are limited in outdoor space and must choose between dining or lounging furniture, pick lounging. Casual dining is still easily achieved using your outdoor lounge furniture. It's harder to relax whilst sitting at a dining table.
Casually cool in Mt Eden Source
5. Get: Permanent cover. Forget: Temporary shade
The holy grail of outdoor living is the outdoor room. Just cast your eye back to the images above and you'll realise what makes many of these settings so engaging is the cover above. It completes the look and is incredibly inviting.
Many of my clients are investing in permanent outdoor cover which has the dual effect of providing shade cover and creating a brand new 'room' in the home. I'm often told that it quickly becomes the most popular living space in the household.
This is often achieved via a louvre system, such as Louvretec which looks beautiful and is highly functional. Selfishly, I'm always pleased when my client has a louvred system as it extends the life of their outdoor furniture and keeps it looking gorgeous longer.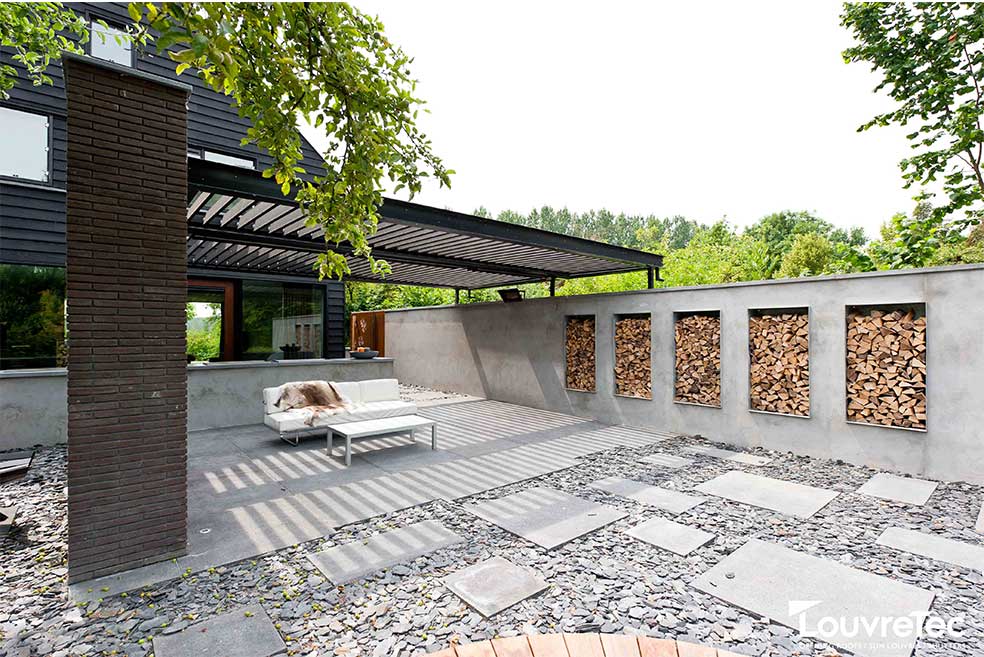 Yes please to Louvretec. Source
6. Get: Real. Forget: Perfection
Remember that the intention of refreshing your outdoor living area was to create a welcoming setting to relax and enjoy each other's company. It's hard to relax if everything needs to look picture perfect like an unattainable Pinterest image.
Aesthetic and design are fundamental considerations, but your space also has to be liveable. We're all past trying to live like an Instagram image, as we transition squarely into an era of conscious and truly authentic living. Yes, tidy up and make it pretty when guests arrive, but relax and embrace the imperfections too.
Real life for us
Happy planning!
Kerry

Kerry is the co-owner of OutsideSpace NZ, offering a range of contemporary outdoor furniture for coastal living kiwis seeking quality product and design at an achievable price.